asensei is a great way to make your workout on your Concept 2 rowing machine more productive and enjoyable. Watching your coach row on-screen while you workout helps your timing and technique and the on-screen stats and goal-setting help you to hit your targets and track progress. The convenience of working out with your iPhone is incredible, so what's the best way to mount one on your Concept 2 rowing machine? Note, if you are looking for an iPad holder you should go to this article.
1 . Concept 2 Smartphone Cradle - The Original
The Concept 2 smartphone cradle has been around for years, they are made of tough plastic and slide onto the top of your PM5, fitting nice and securely. Because the PM5 is common to the RowErg, the SkiErg and the BikeErg this will fit all of these devices. These cradles do also fit the PM3 and PM4 on older rowing machines although since they lack bluetooth support you'll need a cable to connect the monitors to your smartphone and these older devices don't work with the asensei app. This is the Model T of smartphone holders, the original, and of course it only comes in black!
The Concept 2 smartphone cradle flexes to accommodate most phone models, even if they have a case. However for larger phones it's a bit more difficult to insert them as you have to stretch the holder open quite wide and because the plastic is very hard it always feels like there's a danger of it breaking - even if that rarely happens it still makes me a little wary every time. Because of the material I also feel like there's a danger of it breaking when it's chucked into a gym bag with some heavy items and tossed around, although again in practice that's not happened, at least for me.
The bigger issue is that the buttons on the side of your phone tend to be depressed by the hard and flat plastic base of the holder where your phone sits which results in the buttons being randomly pressed, locking the phone, messing with the volume or such like. To avoid this, most people will have to offset their phone from the center and have the buttons hanging off the side. This isn't such a big deal, your phone is still pretty secure and easily visible, but it's less aesthetically appealing and it just feels a little wrong.
Concept 2 are now shipping their phone cradle with all new rowing machines but if you wish to purchase one for your existing machine or for a spare they are really cheap, selling for just $1 at the time of writing, meaning the shipping is more expensive than the cradle if that's all you are buying!
All in all this is a solid choice, they are robust and functional, just what you would expect from Concept 2 . They are now so cheap there's no reason not to have at least one, possibly also a spare, to chuck in your bag and take to the gym with you - or ask your local gym owner why they don't have them installed on the machines already!
2. Vapor Fitness Phone holder - Flexible Solution
The Vapor Fitness phone holder is designed to sit on the top of your Concept 2 PM5, it's made from flexible silicone, but with a clever design that means it grips any size of phone securely without depressing the buttons on the side. It comes in black or neon yellow and it is designed for the PM5 only, not the PM3 or PM4.
UPDATE, it seems you can now get this in 5 colors, with Pink, Red and Khaki green available, if you can find them.
This is a really nicely designed smartphone mount, the silicone material makes it flexible and grippy and you won't feel like it's going to break when you flex it open to insert your phone and you never have to worry when you chuck it in a gym bag.
A nice touch is that the base of the holder doesn't depress the buttons on the side of your phone, there are little ridges and troughs designed to avoid that happening, so most phones can be affixed centrally without worrying about that.
The cost of this holder is something like US$17.99 (£15.99 UK) which is quite a lot higher than the Concept 2 solution, but it's available on Amazon so you may be able to get free delivery. It's highly unlikely to break so if you are looking for durability and portability and want a color choice to match your style then this is a great option.
3. Concept 2 Phone Holders by Lucian Depold - Great for home use
We recently came across these ingenious tablet or phone holders created and 3D printed by Lucian Depold and available on his Etsy store. These small clips attach to the monitor arm, they clip on allowing you to adjust to the exact size of your iPad, iPad mini, iPad Pro and they'll also adjust far enough to allow you to connect a smartphone but they may not handle a bulky case. We've yet to test them ourselves, but the feedback on the store is great.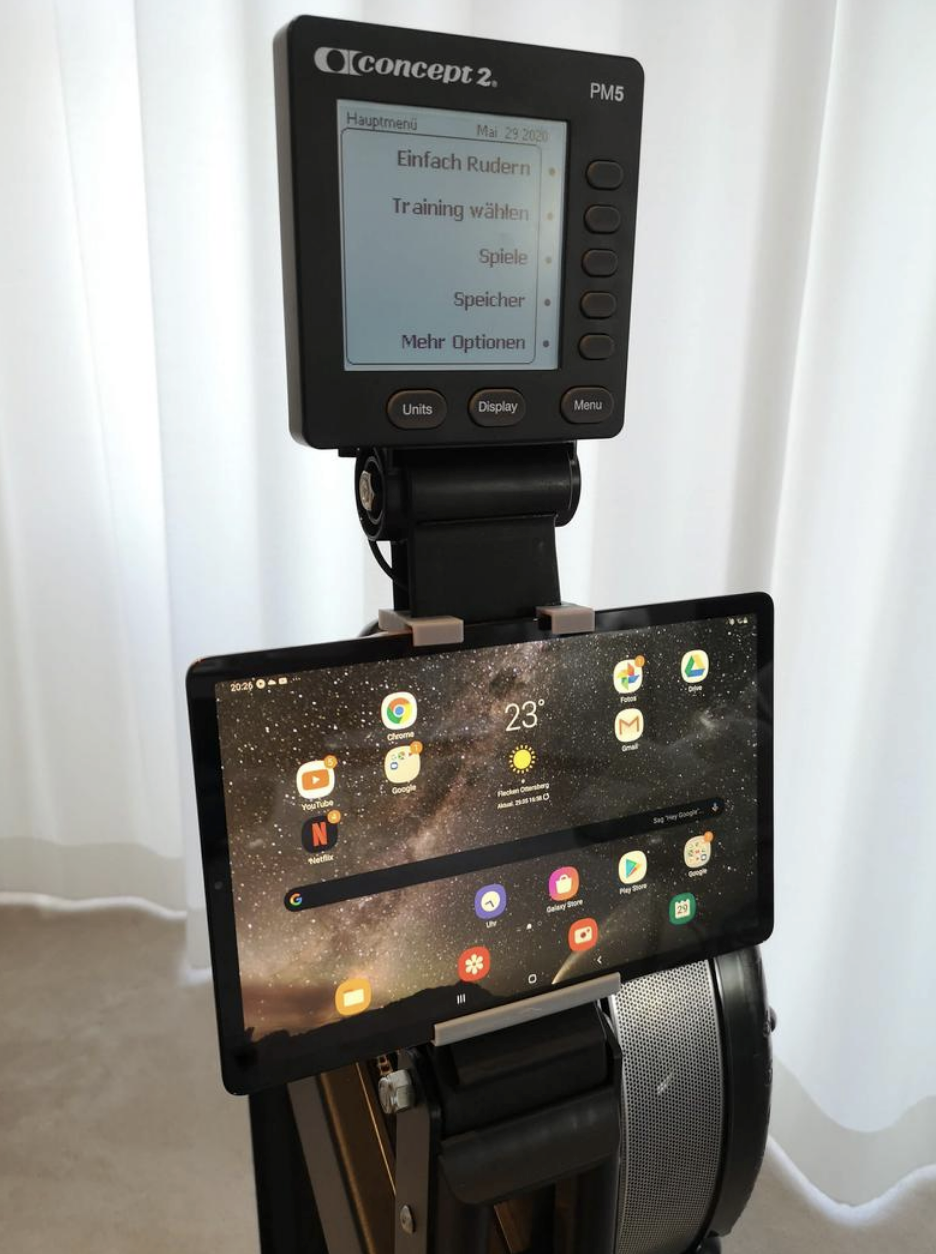 It seems that the actual colour of the accessories is black.
One great thing about these is the small size which means that you can stow the monitor arm away without removing them.
This holder is flexible in the size of devices it holds, from the smallest to the largest phone, plus tablest, but not quite as quick and simple to connect and disconnect as the other options, so best for home use. It also means your device is located below the monitor, near the base of the monitor arm and for a small screen that means depending upon your height, you may be peering down a little rather than sitting tall, which may not be ideal for best rowing posture, but that's a matter of preference.
These are available from the Etsy Store - for phones you would use this version for devices up to 11 inches but there is a larger size aimed at larger tablets rather than phones.
Other Smartphone Mounting Options
What do you use? Tell us more at support@asensei.com and we'll add any good ones here. We've seen people balance their phones beside the handle mount, use freestanding tripods or clamp arms to connect to the erg, a chair, a pile of books(!) and many more, but these seem like the most robust and integrated solutions we've come across.
Using your setup for working out
Once you have your smartphone setup nailed, why not try some great rowing workouts from our amazing coaches such as Olympic Champion Eric Murray, Dark Horse Rowing's Shane Farmer and San Francisco's Johan Quie via the asensei app? You can download the asensei app for free with a limited selection of workouts from the iOS appstore, with no obligations and no credit card required. And if you enjoy that then you can signup for a subscription giving you access to hundreds more at www.asensei.com.