asensei is a great way to make your workout on your Concept 2 rowing machine more productive and enjoyable. Watching your coach on-screen while you workout helps your timing and technique and the on-screen stats and goal-setting help you to hit you targets and track progress. We love to workout with the larger screen of an iPad, but what's the best way to mount one on your Concept 2 rowing machine?
When we first started out there were not really any great options, to the extent that we ended up 3D printing a holder for an iPad mini, but the good news is that there are now some robust commercial options out there. Let's take a quick run through a couple of them.
1 . Concept 2 First Generation Ram Tablet Mount
Concept 2 released a first generation tablet mount for their Model C or Model D rowing machines. As you would expect from Concept 2 this is well made and looks likely to last a long time. It's basically a mounting bar which does need to be screwed onto your erg, which is slightly fiddly, together with an adjustable RAM mount arm and Tab-Tite HD tablet holder. Once affixed to the rowing machine you have a mount that sits at a good height. The PM5 arm can still be moved although you need to have it at its maximum height to see it above the tablet holder. The tablet holder and arm are from RAM Mounts, are really well made and seem to be designed for the standard iPad, Gen1-4 and more.
On the downside the fixed nature of the arm and the fact that it is about 10cm higher than the top of the flywheel even with the tablet arm folded down means that if, like me, you like to store your erg upright against a wall, you can't get it as close to the wall as before. This doesn't sound like that big a deal, but in a smaller room it does take up just a little more space.
I'd also caution on putting an iPad mini into the tablet holder without a case around it, it's just a little too narrow to be held in place robustly and I'd worry about it falling out with a bit of vigorous movement on the erg. Not a major concern as many people will have a case around their device that makes them just that bit more of a snug fit. My old iPad mini Gen 2 with a Speck case fits fine. There are alternate mounts from RAM that you could buy and use instead of the supplied one, but this would incur extra costs as there is no option to buy the mounting bar from Concept 2 without the standard tablet mount.
UPDATE: This format of tablet holder is no longer available to buy from Concept 2's website. If you would like an option similar to this you would need to get creative using a Ram Mount tablet holder and the various attachment arms that they offer - there are a lot of options. There doesn't appear to be a mounting bar just like this one anymore, but a clamp mount to attach to the PM5 arm may be an option - we might take a look at that in a future update.
This is not the cheapest or easiest option but may be useful for people who have their erg out at all times, gyms, and heavy duty users who really want to look after their tablet.
2. Concept 2 Tablet Holders by Lucian Depold on Etsy.
We recently came across these ingenious tablet holders created and 3D printed by Lucian Depold and available on his Etsy store. These small clips attach to the monitor arm, they clip on allowing you to adjust to the exact size of your iPad, iPad mini or iPad Pro and then you slide the iPad into position. You can't keep your iPad in a case, or at least not a bulky one.
The reviews on the store are great, consistently five stars. We have also been using these this ourselves with an iPad mini and can confirm that they are made of robust, grippy material and hold the tablet (minus case) in place nicely.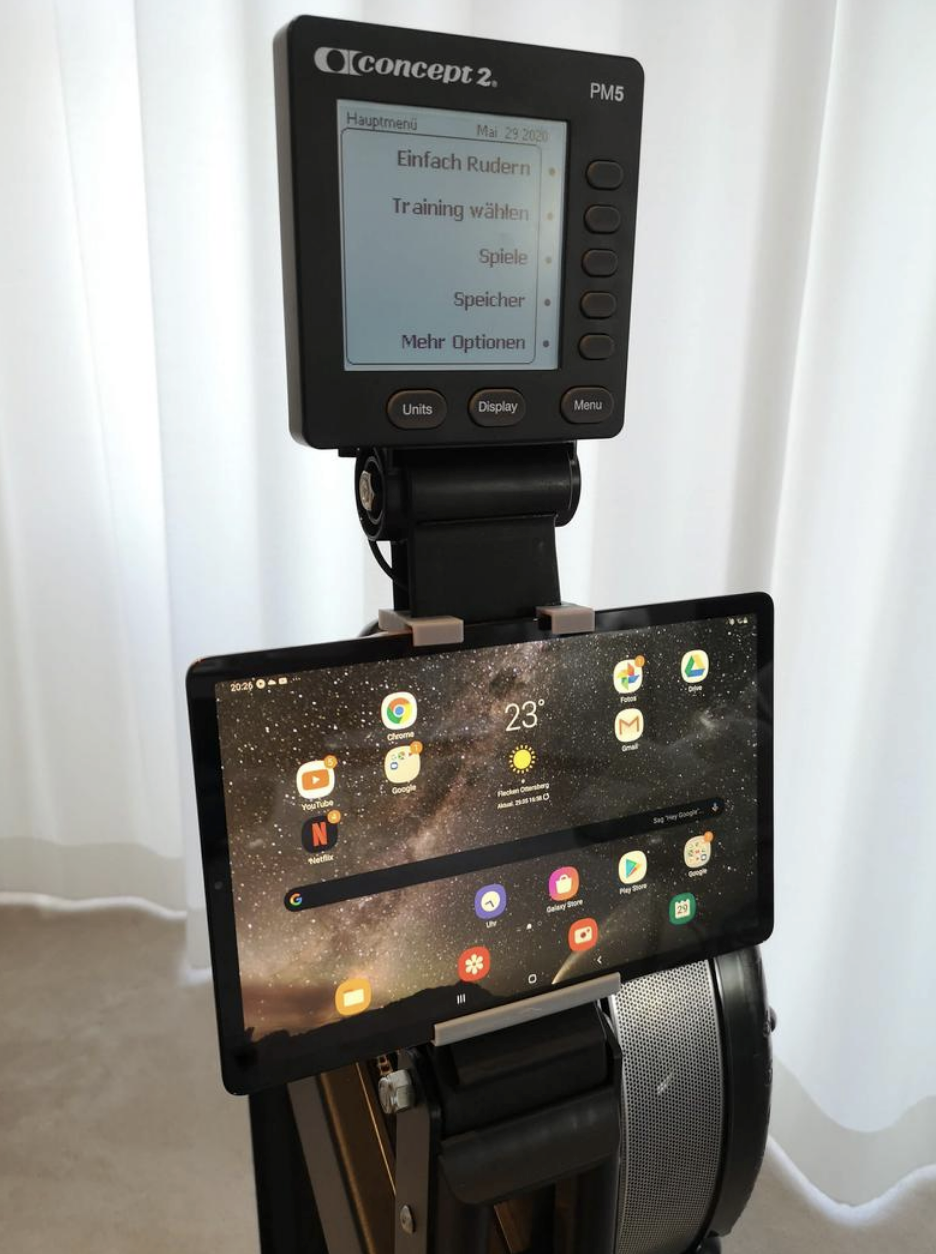 Image showing tablet mount for Concept 2 Rowerg. Note that the actual colour of the accessory is black, but the image shows them in grey for clarity.
The great thing about these is the small size which means that you can stow the monitor arm away without removing them. To insert your tablet you just slide it in from the slide.
The small size also means that these holders are portable. So for example they can be taken with you to the gym, so you can use your iPad there.
These are available in two sizes from Lucian Depold's Etsy Store - up to 11 inches and over 12 inch screen size like the IPAD 12.9. Lucian who runs the store is really responsive and we would recommend.
Summary - tablet mounts for Concept 2 Rowergs
In a world where we are always connected and want to track workouts with a large screen it's important to have a robust way to mount your iPad on your Concept 2 Rowerg. We've covered a couple of different ways we've found to do this, one that is more expensive but more robust using Ram Mount accessories and one that's considerably better value from Etsy merchant Lucien Depold.
What do you use to hold you tablet in place on your Concept 2 Rowerg? Tell us more at support@asensei.com and we'll add any good ones here. We've also seen people use a freestanding tripod, a chair(!) and many more, but these seem like the most robust and integrated solutions.
Download asensei and start working out on your tablet for free
Once you have your tablet setup, why not try some great rowing workouts from asensei's amazing coaches such as Olympic Champion Eric Murray, Dark Horse Rowing's Shane Farmer and San Francisco's Johan Quie via the asensei app? You can download the asensei app for free from the iOS appstore, it comes with a limited selection of workouts there are no obligations and no credit card required. And if you enjoy your free trial workouts then you can signup for a subscription giving you access to hundreds more at www.asensei.com.