There are a number of ways that your workout data is available to view after you complete a workout. This article will explain a bit more about each of them.
Post Workout Share Screen
asensei provides you with the opportunity to share details of your workout immediately after you finish - this is the post workout share screen. Depending upon the workout there may be more than one screen of stats available and you can swipe across the screen to change the selected screen then you may choose Share Workout to share via social media, or with a friend.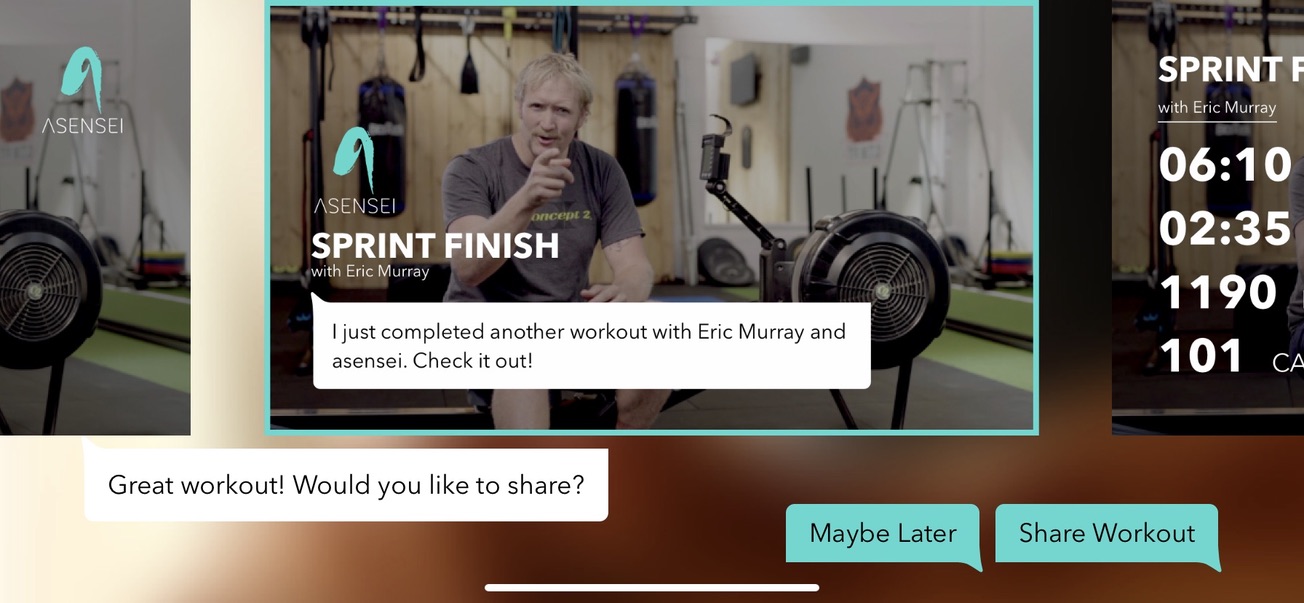 App Release 1.16 and earlier
The sharing stats screen shows the TIME, AVE SPLIT TIME, DISTANCE and STROKE RATE for the whole workout, including the warmup and rest intervals.
App Release 1.16.1 Onwards
We have made some changes to the sharing screen from app version 1.16.1. The data that is displayed will focus on the active parts of your workouts (the intervals you row) rather than the warmup, or the rest data. This will be more consistent with the summary that you see in the Concept 2 Logbook, should you share your workout data there. We're also changing and expanding the data you can share for rowing workouts, making this screen a more immediate place to see a summary of your workout as well as providing the opportunity to share easily in the moment.
Workout Summary
Your workout summary is shown in the Workout History screen. These summaries vary in format from workout to workout but generally this is a focussed summary of your workout, focusing on the key data points that asensei wishes you to note - as you can see in the example below.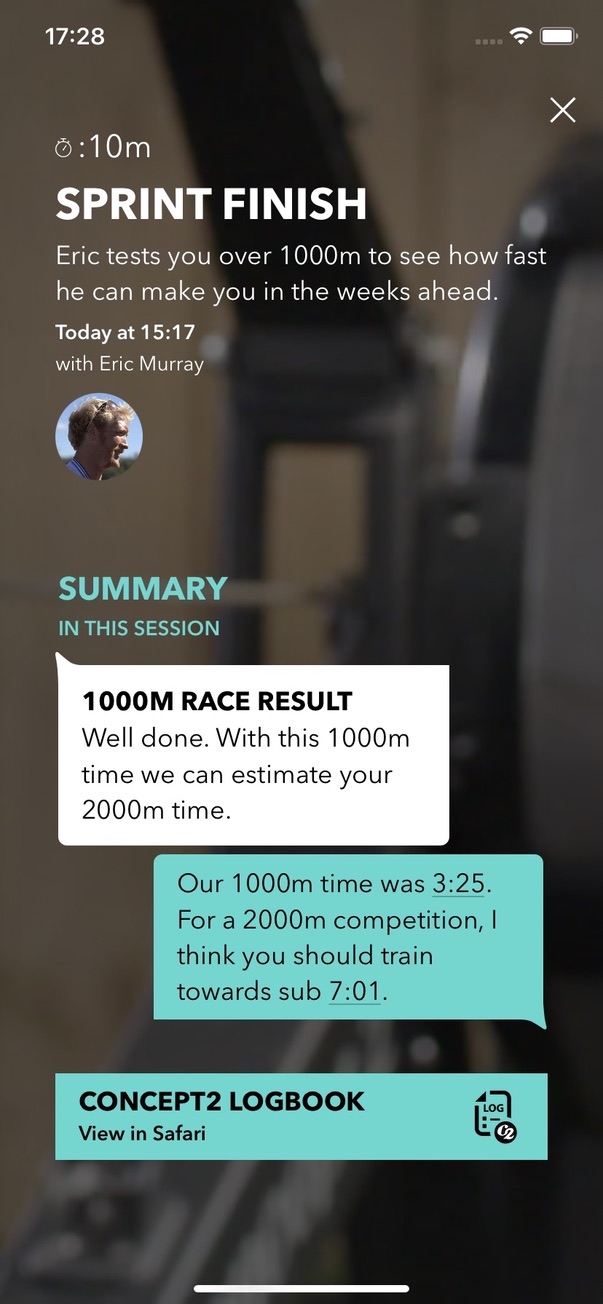 If you wish to see your workouts in more detail, and you are using a Concept 2 rowing machine and have connected your Concept 2 Logbook, you can click on the CONCEPT2 LOGBOOK button at the foot of the summary which will bring up a screen similar to the following.
The Concept 2 Logbook entry also contains interval breakdowns and stroke by stroke information about your workout which can be seen when you scroll down the page, allowing you to see for yourself how consistent your performance was.
For more information on the Concept 2 Logbook entries that asensei makes please see this article.
Discrepancies Between Workout Summaries, Workout Share Screen and the Performance Monitor
Because asensei doesn't usually program your performance monitor/console to show intervals, nor reset it during workouts you may see some discrepancies between the data such as total distance and time displayed on the Monitor and the entries in the Post-Workout Sharing Screen or Workout Summary screens. The Performance Monitor will display metres you may have rowed before connecting to asensei, or after the end of hte workout, as well as the warmup, rests etc during the workout.
If there are any major issues with your summaries, make sure you PM5 and app are up-to-date and contact support@asensei.com